Nuclear equations
As you may know we use a special way of writing the structure of a nucleus so that is easy to see what the proton and neutron numbers are.

This is how to write down the structure of carbon and uranium.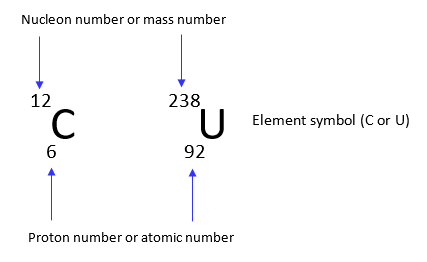 This means that in the nucleus of a carbon atom there are six protons and six neutrons making twelve particles (or nucleons). In a uranium nucleus there are 92 protons and 146 neutrons making 238 nuclear particles (nucleons)

The following equations show you how to write down the three main ways in which an unstable nucleus can decay.
| | | | | | | |
| --- | --- | --- | --- | --- | --- | --- |
| 22688Ra | decays to | 22286Rn | + | 42He | | Alpha emission |
| 8938Sr | decays to | 8939Y | + | 0-1e | | Beta emission |
| 6027Co | decays to | 6027Co | + | 00γ | | Gamma emission |
A VERSION IN WORD IS AVAILABLE ON THE SCHOOLPHYSICS CD