Magnetic deflection of radiations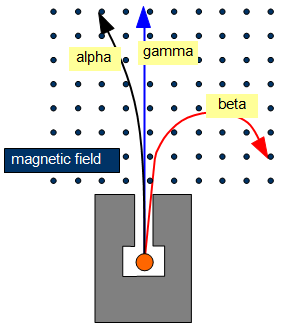 The diagram shows how alpha, beta and gamma radiation would be deflected by a magnetic field acting perpendicular to the path of the particles.

Alpha particles are deflected a little because of their large mass while beta particles are deflected much more because they are nearly two thousand times lighter. They have a negative charge while alpha particles are positive and so they are deflected in the opposite direction.

Notice that the gamma rays are not deflected at all – this is because they have no charge.

In the diagram the magnetic field acts into the plane of the paper.
A VERSION IN WORD IS AVAILABLE ON THE SCHOOLPHYSICS USB