The path of the Sun and the length of daylight.
The time of rotation of the Earth is always 24 hours (give or take a second or two) but because of the tilt of the Earth and the position of the Earth in its orbit, the length of daylight is constantly changing.

This means a change in the time between one sunrise and the next. From midwinter to midsummer this time increases. From midsummer to midwinter this time decreases, although the rotation period of the Earth is unchanged. This is shown in the following diagram.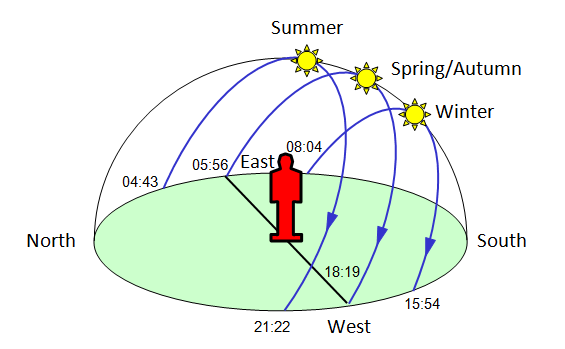 You can see that the length of daylight is greater in the summer than the winter. The Sun rises higher in the sky in the summer, and also rises and sets north of east.
A VERSION IN WORD IS AVAILABLE ON THE SCHOOLPHYSICS CD