Schoolphysics online is freely available to all
This is an invaluable resource base for all 11 to 19 year old Physics students and their teachers.
You can also buy 'The New Resourceful Physics Teacher' book and a Complete Edition CD - see below for details.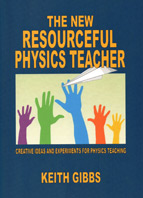 The New Resourceful Physics Teacher
Creative ideas and experiments for Physics teaching.
Fully illustrated 272 page book in full colour
Price: £20 + £2 post and packing
This includes answers to the 3000 problems, a sample of the New Resourceful Physics Teacher experiments, lesson plans, hundreds of gif/png images, tests and answers to the 3000 online problems as well as all the online material (except exam specifications).
Price: £35.00